Rowing Down Mass Ave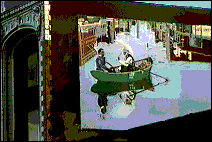 Location:

Stand near the intersection of Mass Ave, Prospect St. and River St in Central Square. Look East toward Boston, down the right side of the street, and up about 4 stories.

Credits:

Please tell us if you know the artists who painted this mural and the story of its creation.

Description:

In this mural Mass Ave has become a placid blue-green canal. The tall buildings along the block east of Prospect St. are reflected on the water's surface along with the images of a women in a high-collared dress and a straw-hatted man sitting in a green row boat. The man holds a white parasol and the oars, but they all seem suspended in time. Nothing breaks the glassy surface of the water.
---
---
CitySource Local Creations pages, digitized photographs and text copyright CitySource Inc. 1995. All rights reserved.